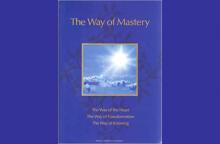 The Way of Mastery - a weekly Zoom discussion group held on Fridays.
This book contains the extraordinary and transformational teachings of Jeshua ben Joseph, who speaks to us as our brother and friend, who gently and lovingly guides us to the Truth of our being. The 35 lessons in this book are a pathway to forgiveness, self-love, and the acceptance of the perfection of each moment.
The lessons are designed to return the mind to holiness - wholeness. 
For more information on the Way of Mastery and to purchase the book see https://shantichristo.com/
We recommend the Enhanced Edition with the CD. Further details will be provided at the discussion group.
Questions about the course or to join the group? Please Message Us.
This group is offered on a love offering basis to Unity Spiritual Center of Coastal Delaware https://www.unityspiritualcenterofcoastalde.org/make-love-offering