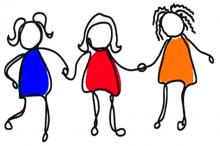 The Women's Friendship Circle meets at the Unity Spiritual Center the first Friday of the month at 1PM and the third Tuesday of the month at 6:15PM. 
This meeting provides the opportunity to develop a close bond with other women in a safe space, sharing thoughts, feelings, ideas, talents, concerns and triumphs.
There are so many health benefits when women of all ages come together to talk, laugh, play, dance, eat and just have fun. 
Use the Message Us page to request more information.
We look forward to having this time with you - confidential, supporting, warm and welcoming.