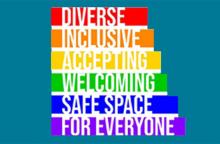 Sunday Celebration, 10 to 11 AM. 
 
Sunday Morning Celebration Services are in person. The Services are live-streamed to Facebook on alternate Sundays. So you can attend in person or view the service from home.
The services on the first, third and fifth Sundays of the month will be live-streamed to Facebook. These services will follow the format we've been using for some time.
The services on the second and fourth Sundays of the month will be Soul-to-Soul services and will be in-person only. These services will be more personal with a circular seating setup where we will explore, share, sing, support and celebrate in a safe setting. The general sequence of the Service is similar to the other Sundays.
For those services where there is live-streaming of the service, the video of the service will continue to be available on our Facebook page.  Once on the Facebook Page, locate the "Videos" on the left side of the page. That will take you to the latest as well as to previous Sunday Service videos.
You do not need a Facebook account to access our Facebook pages if you use these links.  Incidentally, if you have a Facebook account we encourage you to leave a comment. Your input helps us grow and improve.
Please Note:
We keep the Abundant Offering Box on the entrance table. So please place your Love Offering in the box upon entering, or after the Service. Thank you so much.
All attendees may wear a mask. We recommend a mask, but that is a personal choice. If you have recently been exposed to COVID or recently tested positive for COVID please view our Sunday Service online. Similarly for temporary "dis-ease" that you might be feeling.
Masks and hand sanitizer are provided.
Everyone is encouraged to socialize prior to and following the service.
Food or drink will be offered after the Service, and everyone is welcome to bring their own coffee or beverage in an appropriate container to avoid spillage.
*  Regular Sunday Service starts at 10:00 a.m. Eastern Standard Time (EST). The service lasts about an hour, followed by sharing and fellowship. Dress is casual and comfortable. We invite families to attend Sunday Services with their children in the sanctuary as we do not have a separate youth education program.
Our location is 98 Rudder Rd, next to the Sea Esta Motel, on Long Neck Road (1 block past Grotto's Pizza). Unity Spiritual Center is on the left side at the intersection of Long Neck Road and Rudder Road, Long Neck, Delaware. (our mailing address is Millsboro, Delaware)
We look forward to being with you. Blessings to you