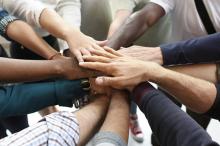 The monthly board meeting occurs the third Sunday of each month at 11:00 AM or so, shortly after the Sunday Service completes.
The meeting is held at the USC, and will be on Zoom if required or requested.
If you are a part of the Unity Spiritual Center community and would like to join the meeting, you are very welcome. It is important that members and friends know what the Board is discussing and what is being planned for the future of the community. All are welcome to sit in.
We are also looking for more people to join the board. Attend a meeting and see where you can participate, with or without becoming a Board Member.
If you would like to participate in the meeting please us the "Message Us" feature on this website and let us know. If you can only participate via Zoom an invitation can be sent to you.
For help in using Zoom, please note the following information.
Use these links for instructions on how to use Zoom