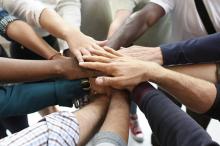 Please attend!  A Community Circle Meeting....
Sandy, our Spiritual Leader, has announced her retirement at the end of September. She received accolades and expressions of deep appreciation for all she has done for USC from those who attended the USCCD's 8th Anniversary Celebration. So now we must prepare for what's next.
As we prepare for our transition with creativity and commitment, we are holding Community Circle Meetings. This is an opportunity for you to express your thoughts and feelings with other community members about the future of our USCCD. 
Dan and Karen Laughman will facilitate these important discussions. Everyone who attends Unity Spiritual Center is invited, and there is an expectation that all members will attend at least one of these Community Circles. 
The first meeting is Sunday, August 14 after service. The second Sunday meeting is Sunday, August 28. One weekday time is available: Tuesday evening, August 30 at 6 PM.
Contact Dan and Karen using the Message Us page.